There is no question that every business, no matter the size, needs a website. But what kind of website is right for you?
To make it seem more familiar, we like to say that building a new website is like building a house—with many of the same benefits and frustrations. The decisions that you must make when planning your new site are very similar to those you make when building a home. How many rooms do you need? What neighborhood will be the best fit for you? Prefab, or custom? And, perhaps most importantly, who will build it? You want a contractor who understands your needs.
Firstly, both a house and a website are a home base for their owners. A house provides a physical space for relaxation, storage, and creating memories with loved ones. Similarly, a website serves as a virtual space where you can showcase your work, share your thoughts and experiences, and connect with others.
Building From the Ground Up
The Plot of Land – Hosting
When you want to build a new house, you first need a plot of land. When searching for one, many factors can be involved. Hosting is the land we're going to build the website on. Choose the wrong hosting company and you could have problem after problem dealing with downtime and server security. No use building a beautiful home that gets flooded twice a week, right?
The Address – Domain name
Your address tells your visitors where you are located – from the street you live on to your exact location on that street. A website URL does the same thing for website visitors, telling them where to find your business online.
Your house's mailing address determines where you can be contacted as well as which services are available to you. Certain electric or wireless Internet companies may or may not service your particular address. The same is true of domain names. This is where you can be reached online, and it may determine who can reach you and how visible you are. For example: which mailing address would you rather have? 1515 Anywhere Street or 473625 Harry William Mountbatten-Windsor the Third Street? It can make a big difference—one is easily remembered, the other is impossibly confusing.
The Foundation – Platform or CMS
A house will not stand without a solid foundation. So it's incredibly important it's done the right way. The same is true of a website platform, it's the building block upon which everything else is erected. Even the most beautiful house will crumble at the first rain if the foundation is weak. A robust back-end infrastructure, built by an experienced website developer, will ensure that your site can weather the storm.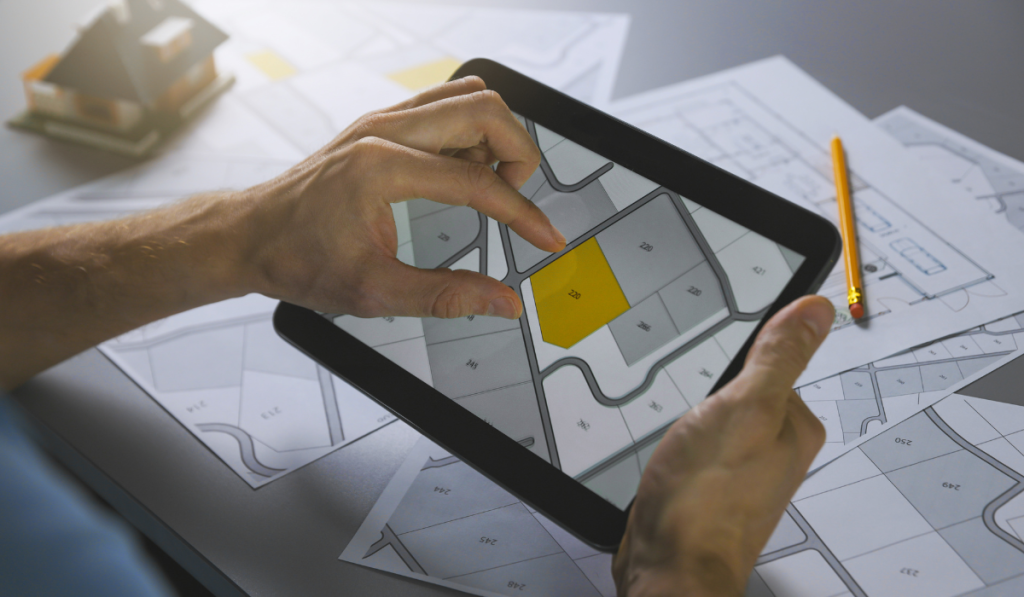 In the case of a housing foundation, it allows for walls to stand on top of it, flooring to lay evenly, etc. The platform we use at Frontline Web Consulting is mostly WordPress, a Content Management System (CMS) which is powerful but user-friendly. It is highly customizable and allows us to do everything else so much more seamlessly. A content management system such as WordPress – in combination with a theme, or template – form the structure and layout of a website.
The Framework
Guided by the blueprint, a framework forms the structure and layout of a house. We create a layout for clients to approve very early on in the process. This gives them an idea of the website's layout, the navigation to move around the site, and how content and images will be displayed. We remain in contact with the client throughout this process because we want to be sure that the "blueprints" match their expectations and needs.
The Construction – Website Development Process
This is the part of the building process where so many people get shafted—both in homes and websites. You can get something that is presentable but which is not structurally sound. Or it could be solid as a rock but as ugly as can be. You want a house built to stand the test of time and be beautiful at the same time. For that, you need to find professionals who know what they are doing and who respect the process.
We take great pride in our work and enjoy helping clients to create beautiful and functional websites. We respect the process. We know what we're doing. Our website development team works hard to make this happen.They remain a resource even after the website launch, to fix little issues that might appear later on. Just like the construction phase of home building, website development takes time if you want it to be done right.
Interior Design – The rooms, paint and landscaping
People build homes to be comfortable and beautiful. They want homes to convey a sense of personality and style. This is true of websites as well—which is where our website designers come in. They take your wants, ideas, and little touches and turn them into design reality. Think of this as the phase of home construction where we're painting walls, picking doorknobs, and deciding which windows we want. The exterior of a house says a lot about its occupants. Is their paint color bright, or subtle? Is their landscaping fresh and well-maintained? The appearance of your website says just as much about your business.
Moving in – Content Migration
If you had an old website, you will want to move in your old content, which can take time but needs to be done right. If it's a brand new website, you'll need content. We can help you "move in" with copywriting services, just ask!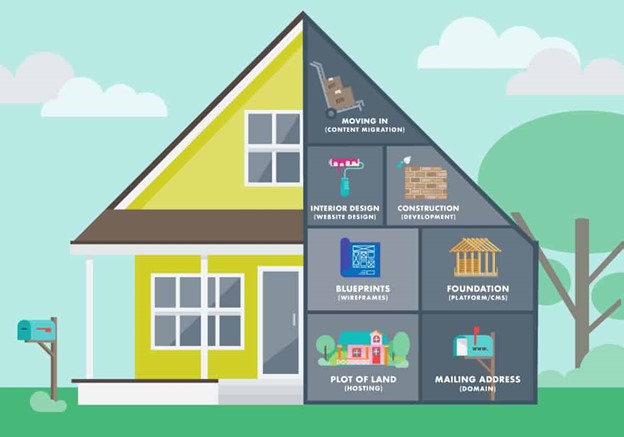 Home Security – SSL Certificate
SSL Certificate is digital certificate that authenticates a website's identity and enables an encrypted connection. SSL stands for Secure Sockets Layer. The majority of website hosting services includes this. It makes the little lock icon appear next to your website URL. What it does is encrypts information passed from server to client, so anyone who might be peeking can't read it. It's essential for SEO as google will not rank an insecure site. It's also essential for any site with login/eccomerce, to prevent that information from being stolen.
GPS – Search Engine Optimization (SEO)
Sometimes, just knowing someone's address isn't enough – you need directions to help you get there. So, you pull up a map or use your GPS. When it comes to websites, good Search Engine Optimization (SEO) allows people to locate and visit your site with ease.
Upkeep & Repair – Website Maintenance
Without maintenance, even the most expensive home in the neighborhood will fall into disrepair. Website maintenance ensures that your site is safe and secure, optimized for search engines, and functioning smoothly.
Putting All the Pieces Together
In the end, each piece of your website ends up working with the others to create the site, and if one isn't receiving top marks, the whole site isn't meeting its potential. After all, it only takes one dealbreaker to turn a dream house into a fixer-upper. But you can make your dream house work for you and your business. Take a good hard look at how your website looks now and decide what work needs to be done. If you're not the DIY home improvement type, don't worry— we have "master carpenters" on staff, so reach out to us for help!