How to Use Instagram Hashtags for Businesses: The Effective Hashtag Recipe
Hashtags – people either love them or hate them. However, did you know that Instagram posts with at least one hashtag has 12.6% more engagement than those without? Regardless of how you feel, there are benefits of hashtags on your Instagram posts if done correctly. Biggest one? Visibility. Discover how to use hashtags for maximum effect on your Instagram posts.
The Effective Instagram Hashtag Recipe
There are endless possibilities when it comes to choosing hashtags. You can use just about any to define your brand and connect with your target audience on Instagram. HOWEVER, much thought needs to be given when it comes to this strategy. Finding the right hashtags takes some time and research but with a well-crafted strategy, you can drive real conversions from adding followers, to closing sales through Instagram.
To begin, most people do not realize that Instagram has a limit of 30 hashtags per post. When you search a hashtag on Instagram, it will show you how many posts are associated with that hashtag.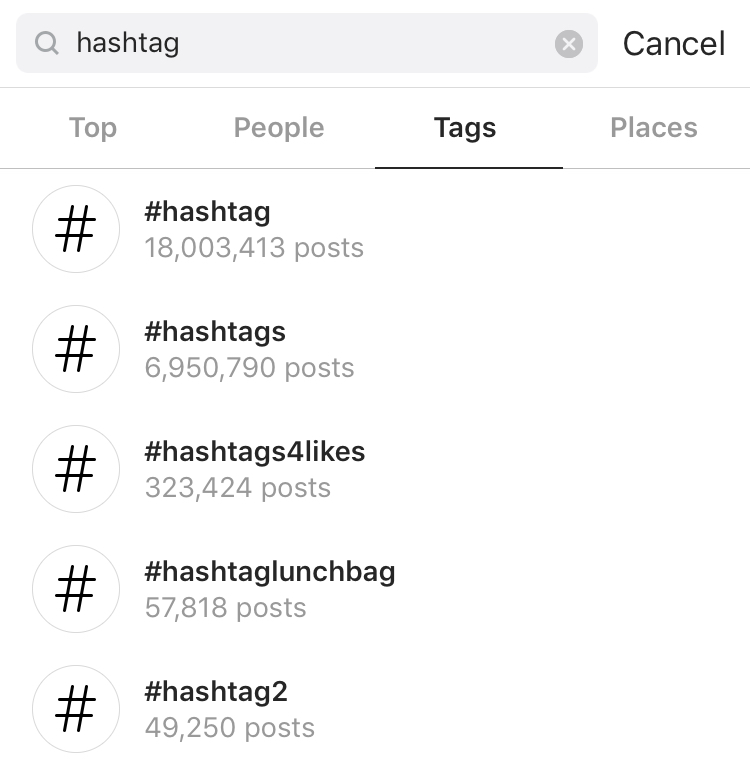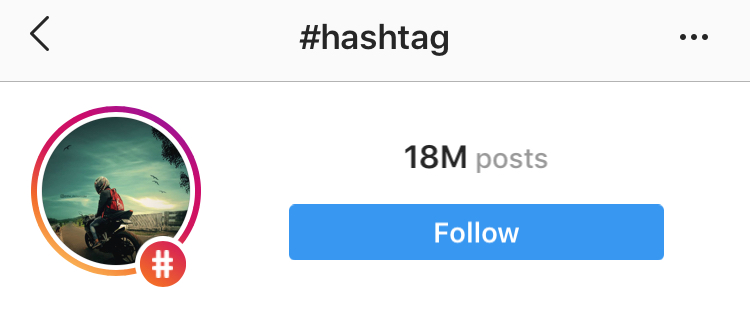 For an effective Instagram hashtag strategy, you'll need to combine hashtags from four different categories. When you find the proper combination of these hashtags, it will maximize your post performance and help you reach your potential customers. You will be able to easily identify 15-20 hashtags for each of your posts with this Instagram hashtag "recipe":
1.       Extremely popular hashtags – they are the ones that have about 100,000 to 500,000 posts associated with them. Choose 5-7 of these ones. We don't recommend using hashtags with more than 500,000 posts associated with them as those ones can invite bot activity and your content will be buried in their archives within seconds of being posted (which then becomes a waste of time business-wise).
2.       Moderately popular hashtags – they are the ones with 10,000 to 100,000 posts associated with them. Choose 5-7 of these types.
3.       Niche-specific hashtags – they are the ones that have fewer than 10,000 posts associated with them and are hyper-targeted to your core business industry, and the things your target audience is searching for. An example would be "jewelrywithintention" for a pay-it-forward handmade jewelry company. Choose 3-5 of these types.
4.       Branded hashtags – these are the ones you would use exclusively for your brand. They may be brand-specific and campaign-related.
The reason for this specific recipe of hashtags is related to how the Instagram algorithm sorts each hashtag. Instagram will review each piece of content (video or image) for performance – looking at its engagement from both followers and non-followers.
This is why when you use popular hashtags, your content will appear in searches for seconds into minutes. This will generate an immediate burst of activity on your post. When you use moderately popular hashtags, it will keep your content active in search results for hours, telling Instagram that your content has a long lifespan. When you use niche-specific hashtags, this is where you will stand out. There is a better chance that your post will appear as one of the top posts in the searches for niche-specific hashtags you choose because your followers are interacting with your posts, and the other hashtags you've used will continue to keep that post spiked with activity. In doing this, your content is now at the top of the hashtag search page for a very specific topic. The people looking at this search result are seeking this very specific thing and will see your content first, leading them directly to your post and your profile.
If people like your other content or your profile in general, there's a higher chance that they're going to follow you. If the products or services you offer is what they're looking for, you can even close a sale from that post.
Ensure that you Hashtag Each Post for Maximum Visibility
With this Instagram hashtag recipe, you will then need to determine what are the best hashtags for your brand. All of the hashtags you use on your posts should be directly related to the content itself, as well as your industry or brand:
·         Content hashtags – ones related to the items in the post itself. This one's simple – if it's a photo of a cat, hashtags related to cats (eg: #Calicocats, #kittensinYEG, etc)
·         Niche hashtags are specific to the target audience you're trying to reach. They are also digging deep into the solution that you offer
·         Branded hashtags are hashtags that you and your customers use to showcase and tag your content on Instagram.
·         Industry hashtags may not be directly related to what's in the post but are specific to the industry and clients you serve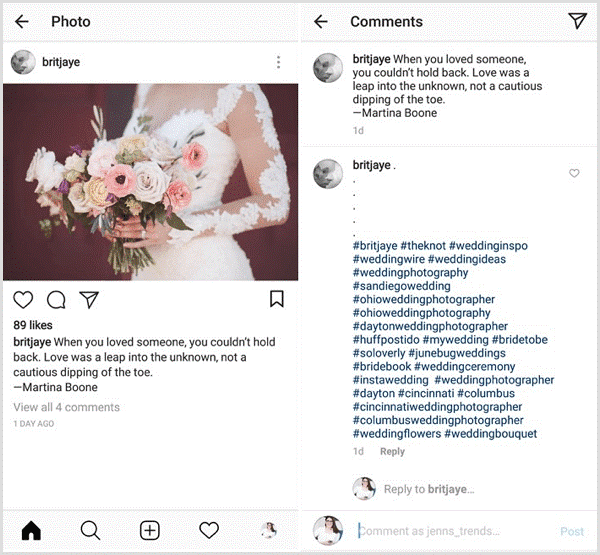 In the above example from @britjaye, she incorporates different hashtags related to both the content of the image and the target audience she's aiming to reach:
·         Content hashtags include #bridetobe, #weddingceremony, #weddingflowers, and #weddingbouquet.
·         Industry hashtags include #weddingideas, #weddingphotography, #junebugweddings, #weddingphotographer, and #instawedding.
·         Niche hashtags include #ohioweddingphotographer, #ohioweddingphotography, #daytonweddingphotographer, #cincinnatiweddingphotographer, and #columbusweddingphotographer.
·         Branded hashtags include #britjaye.
For your brand, you want to create a list of hashtags to satisfy these various categories. Here are some tips to do so:
·         Content hashtags vary depending on the products or location in the post.
·         Industry hashtags, niche hashtags, and branded hashtags will be relatively consistent for all your content.
·         If you're struggling to find more hashtags that work well for your brand, look at the suggested or related hashtags in the Instagram search results. This will allow you to research further
·         Look for hashtag inspirations from others within your industry – see which ones they use in their content and see if any of those would be relevant or work well with your brand.
Hashtag Overload
How many hashtags are too many hashtags? We know you may have a personal preference however when branding for a business, you want to consider what works best for visibility and your overall strategy on Instagram.
There are several options of where you can post your hashtags. You may have seen a few brands tend to separate their hashtags with dashes and dots to distinguish separation between your caption on your post and your hashtags.  If you do not want to come across as "spammy," you can also post your hashtags as a comment instead (although fair warning, sometimes if the hashtag is content-specific and may add to your post, you may not want to put it into your comments – example: #thestruggleisreal in a customer post about solving a problem). You can also do a combination of both of these – put about 3-5 hashtags in your post and then the rest into your comments.
Hashtags can be quite effective when it comes to your content and visibility. To the untrained eye, many people may not realize the true use of hashtags and the strategy behind them. Now knowing the Instagram hashtag recipe, utilize these tips and then re-visit them every now and then to see the engagement and visibility your brand is getting!